G-3000 DIMMER/FLASHER
FOR TECH 22
NEON POWER SUPPLIES

Vista, California 92081, USA
Ph : (760) 727-6366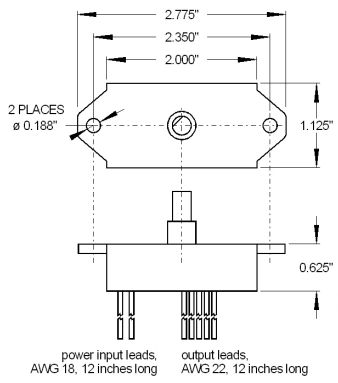 Tech 22's model G3000 is a neon dimmer/flasher,
intended to be used with the gatable series of
Tech 22 neon power supplies to control brightness

and / or to flash one or more neon units.
Four separate output signals are available:
Output 1 = dimmer
Output 2 = dimmer
Output 3 = flasher (alternates with output 4)
Output 4 = flasher (alternates with output 3)
DIMMER
When used as a dimmer, brightness of neon tube can be reduced to less than 2% without any reduction of footage.
FLASHER
When used as a flasher, outputs 3 and 4 generate alternate signals (2-point flasher).
Single turn, 1/4 inch diameter non-conductive shaft is provided for adjustment of the flashing speed. Control range is from faster than 10 flashes per second to slower than one flash every four seconds.
When speed adjustment is set to fully clockwise position, flashing stops and both outputs stay lit.
POWER REQUIREMENTS
Voltage : 120 VAC, 50/60 Hz
Current : 0.02 A
Power : 2 W
MOUNTING
Unit is mounted in 3/8" diameter hole
using two 8-32 screws.
APPROVALS
This Gen3 Controller is listed in the UL Recognized Components Directory and in
the UL sign accessory manual (SAM).