GEN3 CONTROLLER FOR
TECH 22
NEON POWER SUPPLIES

Vista, California 92081, USA
Ph : (760) 727-6366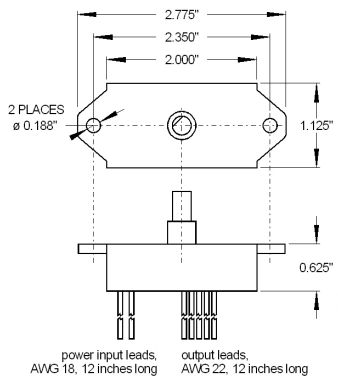 The Tech 22 Gen3 Controller is a neon sign controller intended to be used with the gatable series of Tech 22 neon power supplies to control brightness, flash or sequence one or more neon tubes.
Tech 22 stocks the most popular configurations:
Neon dimmers, two, three and four point chasers, two, three and four point spellers, etc.
Other functions may be defined by sign designer and implemented by Tech 22. Turnaround time for customized configurations is minimal, typically same day to three days. Application assistance
and service to implement the more basic functions is provided at no cost.
POWER REQUIREMENTS
Voltage : 120 VAC, 50/60 Hz
Current : 0.02 A
Power : 2 W
POWER CONNECTIONS
Two AWG 18 leads, 6 inches long.
CONTROL INPUT (OPTIONAL)
Red (+) and black (-) leads can be connected to an electronic controller (or another Gen3 Controller) or to a simple switch. Action of this signal alters the original function and may also be defined by the sign designer. For example, activating this input may switch to full brightness, stop or reverse animation, modulate brightness of a chaser, etc.
Maximum "on" voltage : 1.20 V
Minimum "off" voltage : 2.50 V
Control current : 1.6 mA (5V control voltage)
Absolute max. control voltage : 15 V
MANUAL CONTROL
Single turn, 1/4 inch diameter non-conductive shaft is available for external control of brightness or animation speed, depending on required function.
MOUNTING
Unit is mounted in 3/8" diameter hole by two 8-32 screws.
APPROVALS
This Gen3 Controller is listed in the UL Recognized Components Directory and in the UL sign acessory manual.